Croatia & Montenegro Adventure

Join us as we explore the best of the Balkans with Adriatic Kayak Tours!
Our two-country Best of Balkans Tour brings together the best kayaking in the Adriatic Sea and the best of the region's mountains and rivers. Although Croatia and Montenegro share a common Adriatic coastline, the islands end at Croatia's southern border with Montenegro. Croatia's 4000 km. of spectacular coastline are littered with roughly 1185 islands, a sea kayaker's dream. What tiny Montenegro lacks in Adriatic coast and islands, it makes up for in spectacular mountain scenery, deep river-cut canyons, and the mountain ringed Bay of Kotor.
Agenda:
Trip Length: 8 days*/7 nights, Monday-Monday
Arrival/Departure Point: Dubrovnik
Accommodations: Lopud Island & Dubrovnik: guesthouse rooms with attached bathroom and A/C; Montenegro: Private double or triple log cabin rooms with attached bathroom and outside deck or log cabin bunkhouse bungalows with detached shared bathroom facilities.
Tour Price: US$1429
Includes: 7 nights accommodation, 6 breakfasts*, 6 lunches, & 6 dinners, kayak and rafting gear, guiding, car & ferry transfers and transport
*does not include dinner day 7 & breakfast day 8 in Dubrovnik
Single Supplement: additional US$280
Book online now!
Accommodations:
Tara River Camp Ground: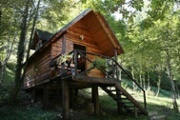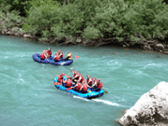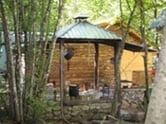 Experience the best of both worlds- Croatia's sea and Montenegro's mountains. Paddle sea kayaks in Croatia's deep blue sea, hopping from island to island. Sleep in a stone guesthouse on a quaint island without roads or cars. Feast on local seafood and rich Mediterranean cuisine. Jump into the warm sea without regard for the water temperature. A leisurely transition to Montenegro includes a visit to the UNESCO walled city of Kotor and a mountain hike for panoramic views of the Bay of Kotor. White water raft the cold, green waters of the spectacular Tara River Canyon, second in scope in the world to the USA's Grand Canyon. Sleep in wooden cabins at a rustic riverside camp. Enjoy hardy mountain meals around a roaring bonfire. Take in the star-studded night sky and crisp alpine air.
Itinerary:
Day 1: Transit day*
Arrive in Dubrovnik /car transfer to AKT office; Explore Old City; 4 PM ferry to Lopud Island; Check-in at the guesthouse; Orientation dinner at our private dining terrace overlooking Lopud Bay
Day 2: 7 – 15 km
Equipment issue/basic paddling and rescue instruction in Lopud Bay; Paddle outer side of Lopud along limestone cliffs to Sunj beach; Relax at Sunj beach, lunch at the beach bar, swim. Optional paddle to St. Andrew Island or hike to the hilltop fortress; Explore Lopud's waterfront promenade, monastery, walking trails
Day 3: 18 – 22km
Morning hike to kayaks at Sunj; Kayak from Sunj beach to Koločep island; Circumnavigation of Koločep, paddle along cliffs and caves; Swim and snorkel to the Blue cave; Climb the cliffs for a picnic lunch
Day 4: 15 km
Morning hike to kayaks at Sunj; Kayak from Sunj to Trsteno on the mainland coast; Visit Trsteno's 15 century arboretum & villas as well as a site for filming of the popular show "Game of Thrones"; Sunset and final dinner on Lopud terrace
Day 5: Transit day
Morning ferry off Lopud; Car transfer to Montenegro; visit UNESCO walled city of Kotor; Hike up for panoramic views of the Bay of Kotor; Continue north to Tara River Canyon and riverside bonfire dinner
Day 6: 18 km white water raft
Raft the final 18 km. stretch of the Tara River before it enter Bosnia, featuring 23 rapids, Bonfire dinner at riverside camp
Day 7: 5 – 10 km hike
Morning hike in Durmitor National Park; Afternoon car transfer to Dubrovnik; Sightseeing and dinner on your own in Old Town
Day 8: Transit day
Transfer to airport for departure flights
*For those of you who wish to have more time to explore Dubrovnik, we would recommend arriving a day early. We would be happy to arrange accommodations.
SUP Clinic Weekend with Evelyn

Improve your paddling with Starboard Paddler Evelyn O'Doherty
Evelyn is back for a weekend of paddling, racing and more! She will be joining us for 3 special classes for all you aspiring racers and seasoned paddlers looking for an edge!
Book online now!
Friday, June 28th: 6 PM-8 PM
Beginners SUP & Sunset Clinic
Experience the beauty of being out on the water for a sunset paddle and acquire the skills to make you a strong, confident paddler!  Evelyn's clinic create your proper foundation for paddling, looking at key elements of stroke technique, balance and water awareness.  She will guide you through the core elements of body alignment and phases of the paddle stroke as well as give you drills & skills you can take home with you to practice on your own!  Individualized instruction and attention.  A lot of fun on the water too!  Start this season well by developing the knowledge and body awareness you need to make it a fantastic summer paddling on the water!
Saturday, June 29th: 9 AM-11:30 AM
Advance Your Stroke
As a stand up paddle race coach, Evelyn has great success in instilling a sense of courage, willingness to dig deep and maintain an overall sense of FUN for her students while racing. This clinic is a light-hearted introduction into technique and the elements of stand up paddle racing.  Evelyn will teach you the difference between a racing stroke and a leisure paddle technique, show you how to put your whole body into creating power and momentum on the board, have you practice race starts, buoy turns, interval work and finishing with fire.  If you want to discover MORE about the world of paddling and/or refine your stoke for quicker cadence and power, this 2.5-hour clinic is for you.
Sunday, June 30th: 11 AM-1 PM
Coastal Paddling (Wind & Current)
In this clinic you will learn to read the ocean to anticipate wind & current. Learn skills to enter and exit the surf break safely. Understand your balance in moving water and learn how to use your paddle to 'brace'. Experience the thrill of the open water as we take a short tour along the coastline talking about cadence, stance and technique to keep you standing and comfortable in a variety of conditions.
Evelyn O'Doherty
Evelyn O'Doherty is a Starboard National Team Rider and Kialoa ambassador from East Hampton NY. She offers progressive paddle clinics throughout the North East every summer and, in winter, hosts multiple stand up paddle & yoga retreats around the world. She is a nationally ranked SUP racer who has spent numerous hours on the water perfecting her stroke to compete against elite racers across the country.Her skill as a waterwoman, teacher, and yoga instructor will help you grow in your confidence and performance on the water. You can find out more about her & her upcoming retreats at www.evelynodoherty.com
Are you planning a fun event for friends or family, or looking for a great time out with a group from work?
The Kayak Centre can work with you to create a customized kayak tour or instructional program to fit your specific needs and requests.
For a unique and creative experience, consider some time on the water with The Kayak Centre!
Birthday Parties
Wedding Parties
Teambuilding Events
Boy Scout and Girl Scout Trips
College or Family Reunion
Out of Town Guest Escape
School Trips
Includes boat, paddle, PFD, map of the area and some brief instruction.
Each rental lasts 3 hours
1-15 people: $30/person
16-30 people: $25/person
30+ people: $20/person
Includes boat, paddle, PFD, map of the area, brief instruction,  and a tour guide who will lead you around our tranquil waters.
Each tour lasts 3 hours
1-15 people: $40/person
16-30 people: $35/person
30+ people: $30/person
Includes boat, paddle, PFD, map, any other equipment needed for the class, as well as instruction.
Classes can cover many different aspects of paddling for people of all abilities. Once the class is booked, a staff member will contact you regarding specific details you would like covered in the class.
1-15 people: $55/person (Half Day) $135/person (Full Day)
16-30 people: $50/person(Half Day) $130/person (Full Day)
30+ people: $45/person(Half Day) $125/person (Full Day)
2019 Annual Demo Weekend
May 4 & 5, 2019 10:00am – 4:00pm
Thinking about buying this year?
Get on the water and get a real feel for your next board or boat with over 100 kayaks and standup paddleboards available to demo. Our friendly staff and manufacturers' reps will be standing by to answer questions and help you find the perfect one. Once you're done testing on the water you can head back to our shop to see the latest accessories and clothing.
More information to follow as we get closer to the date!
Entry: $5 or 5 canned goods to donate to the North Kingstown Food Pantry